Kimbrow says he's Boro bound
Former Vanderbilt RB to finish his collegiate career with Middle Tennessee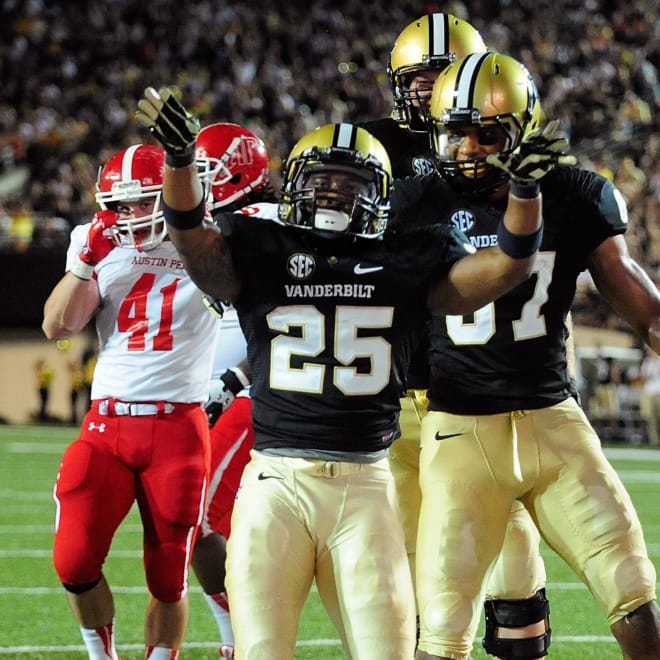 In a series of just a few tweets, former Vanderbilt running back Brian Kimbrow made a huge statement.
The former 4-star recruit from Memphis East High School is coming to Murfreebsoro to finish out his collegiate career with Middle Tennessee.
"I want to say thanks for the good and the bad but it is now time for a new chapter in my life," Kimbrow tweeted Thursday afternoon. "I will be playing at Middle Tennessee State this upcoming semester!"
The decision won't come as a shock to GoMiddle.com subscribers. We got wind that this move could potentially be in the works, especially after Kimbrow announced he had finished his undergrad degree this past semester, but this is big news nonetheless.
Two factors came into play for Kimbrow on his decision - location, and the Blue Raider coaching staff.
"I chose MT because it's close to home I have a great relationship with the coaches and they are great leaders," Kimbrow told GoMiddle.com. "In addition to that, they teach their players how to become men and are willing to push you to accomplish your goals."
Kimbrow will have at least one season of eligibility left when he suits up for the Blue Raiders. While he did not see any action in 2015, Kimbrow participated in the season opener for Vandy in 2014, essentially burning one of his potential two remaining years of eligibility. Kimbrow told GoMiddle.com, however, that he plans to appeal to the NCAA to get that extra year back.
Regardless, we've already seen that MT head coach Rick Stockstill is willing to take a chance on a guy with one year of eligibility left. RB I'Tavius Mathers will suit up for the Blue Raiders next year as well. Those two will join a RB corps that will include Shane Tucker, Desmond Anderson, Kamani Thomas and J'Vonte Herrod, among others.
For Kimrbow, the trials and tribulations that he's faced in the past couple of years have not gone without reflection. If anything, the talented back has gained some real perspective.
"There's two things that define you," Kimbrow said. "Your patience when you have nothing, and your attitude when you have everything."
Considering he's spent some considerable time away from the game, many will wonder what to expect once Kimbrow dawns the pads again. For Kimbrow, the only expectation he has of himself is to work as hard as he possibly can.
"My expectation is to come in, do what I do on the field and work," Kimbrow said. "The rest will sort itself out."
During his time at Vandy, Kimbrow was productive although he played in a running back by committee type of rotation. In 2013, Kimbrow appeared in all 12 games, rushing for 341 yards on 81 carries (4.2 YPC average). As a true freshman in 2012, Kimbrow had an immediate impact for Vandy, rushing for 413 yards on just 66 carries (6.2 YPC). As a senior in high school, Kimbrow put up some gaudy numbers, rushing for 1,969 yards and 21 TD's on just 187 carries (10.5 YPC average)
***For more on Brian Kimbrow and all Middle Tennessee recruiting targets, keep it locked in to GoMiddle.com!***