Kimbrow walks away from the game
RB says his love for the game of football diminished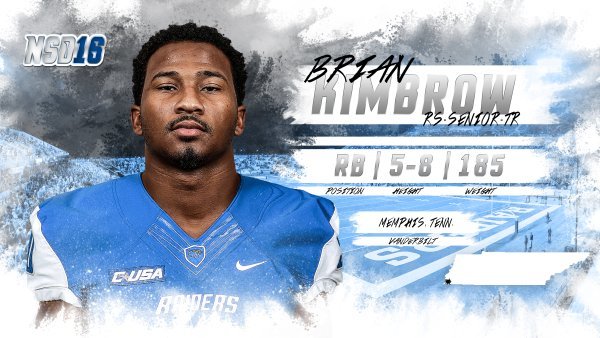 The Brian Kimbrow experiment at Middle Tennessee has ended before it ever really began.
Following a report by UnderDogDynasty.com that Kimbrow was removed from MT's roster, the Daily News Journal's Aldo Amato was able to confirm the talented player's departure from the program with head coach Rick Stockstill late Tuesday afternoon.
The transfer from Vanderbilt has walked away from the game of football and it does not appear that he will ever dawn a uniform again.
The only question left to ask is -- why?
"I just didn't love football like I used to and wanted to focus on school and my forensics career," Kimbrow told GoMiddle.com Tuesday night. "Just burned out for real."
Kimbrow's journey was a well documented one. A former 4-star prospect and a top talent coming out of the state of Tennessee, Kimbrow originally landed at Vanderbilt with then coach James Franklin. After Franklin left for Penn State, Kimbrow butted heads with new coach Derek Mason more often than not, which ultimately led to him being dismissed from the program in 2014.
A year away from the game seemed to energize the competitive juices in Kimbrow, however, as GoMiddle was able to report back in January that he was heading to Murfreesboro to play ball as a graduate transfer.
Kimbrow told us then that the coaching staff at MT was what made him decide to join the Blue Raiders
"I chose MT because it's close to home I have a great relationship with the coaches and they are great leaders," Kimbrow said in January. "In addition to that, they teach their players how to become men and are willing to push you to accomplish your goals."
And for what it's worth, Kimbrow had nice things to say about the program on his way out, adding that "MT was really good" to him while he was apart of the program.
Despite a productive spring in which Kimbrow was working his way up the depth chart, he was evidently finding it harder to come to the field than to go up against the defense.
But, if his reasons are true - and we have no reason to doubt they are not - it's better for him to walk away now than to drag things out and potentially handcuff the coaching staff from filling the void with another scholarship, which Stockstill and his staff can now potentially use on a late qualifier this summer.
While his playing days are now officially done, Kimbrow will remain enrolled at Middle Tennessee while he completes his graduate degree.